Virginia Wineries Association Announces 2020 Governor's Cup® Gold Medalists
The Virginia Wineries Association Governor's Cup® Wine Competition judging is complete, and 64 Virginia wines from 40 different wineries have been awarded gold medals. The competition, now in its 38th year, was held over a four-week period during late January and early February. During that time, 19 judges sampled over 530 Virginia wines to choose gold, silver and bronze medals in one of the most stringent and thorough wine competitions in the country.
Gold medal-winning wines scored a 90 or higher on a 100-point score range and come from across the Commonwealth's winegrowing regions.
Blends dominated the gold medals, while Cabernet Franc, a grape that grows very well in Virginia, dominated the single varietals.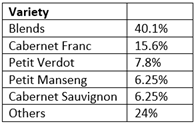 Approximately two-thirds of the gold medals went to wines from the 2017 vintage, which most consider one of top vintages of the decade.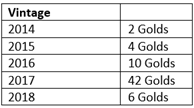 Central Virginia wineries continued to score the most golds overall, and Shenandoah Valley doubled their golds from three in 2019 to six in 2020. Southern Virginia, which had no golds in 2019, scored two golds this year, from Rosemont Vineyards and Hamlet Vineyards.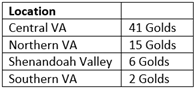 Results from the 2020 competition also showed an increase in hybrid varietals, a nod to sustainable practices in Virginia vineyards, as hybrid grapes require less intervention in the vineyards.
The esteemed panel of judges was directed by Jay Youmans – one of only 51 Masters of Wine (MW) in the U.S. – who has overseen the competition for nine years. Commenting on this year's entries, Jay Youmans said, "Virginia wines continue to impress, year over year. The overall quality continues to grow, and every vintage tells a fascinating story. Anecdotally, in the blended wine category, the judges tasted an impressive number of quality Tannat-driven wines that demonstrate the diversity of varieties that are seeing success in Virginia."
Virginia's vibrant wine industry – a 400-year-old "experiment" – is a significant agricultural sector in the state. Today, over 300 wineries in Virginia cultivate over 3,800 acres of grapes, making it the sixth-largest wine region in the US. Grape varieties like Viognier, Cabernet Franc, Petit Manseng and Petit Verdot—relative obscurities in Old World wine traditions—are taking center stage in Virginia. Both the Governor's Cup Competition and the resulting Governor's Cup Case® boost the visibility of the Virginia wine region through various marketing programs and exposure to top wine critics and tastemakers.
Of the gold medal winning wines, 12 top-scoring red and white wines will then comprise the Governor's Cup Case to showcase the commonwealth's top wines. The highest scoring wine of the competition will be awarded the grand prize of the Governor's Cup itself. The winner of the Governor's Cup will be announced at the Virginia Governor's Cup Celebration on February 25, 2020; the other 11 wines that make the Governor's Cup Case will also be recognized. The celebration is a private invitation-only event.
About the Governor's Cup Competition
The judging panel ranks each wine based on a unified scoring system. Any wine made from 100% Virginia fruit is eligible for the Governor's Cup Competition. Ciders, fruit wines and meads have their own categories. Entries must include an affidavit with a certification of 100% Virginia fruit and vineyard particulars, including grower names and location, as well as information on alcohol, acidity or basicity (pH) and residual sugar.
2020 Governor's Cup Gold Medalists
| | | |
| --- | --- | --- |
| Winery | Wine | Year |
| 868 Estate Vineyards | Vidal Blanc | 2017 |
| Afton Mountain Vineyards | Tradition | 2017 |
| Barboursville Vineyards | Octagon | 2014 |
| Barboursville Vineyards | Vermentino Reserve | 2018 |
| Barboursville Vineyards | Octagon | 2017 |
| Bluestone Vineyard | Blue Ice | 2015 |
| Breaux Vineyards | Nebbiolo | 2015 |
| Breaux Vineyards | Merlot | 2016 |
| Cardinal Point Winery | Clay Hill Cabernet Franc | 2017 |
| Chester Gap Cellars | Cabernet Franc | 2017 |
| Chisholm Vineyards | Cabernet Sauvignon | 2016 |
| Chestnut Oak Vineyard | Chestnut One | 2017 |
| CrossKeys Vineyards | Ali d'Oro | 2016 |
| Cunningham Creek Winery | Herd Dog Red | 2017 |
| Delaplane Cellars | Williams Gap | 2017 |
| Delaplane Cellars | Rusticity | 2017 |
| DuCard Vineyards | Petit Verdot | 2017 |
| DuCard Vineyards | C'est Trop | 2017 |
| Early Mountain | Petit Manseng | 2018 |
| Early Mountain | Shenandoah Springs Cabernet Franc | 2017 |
| Fifty-Third Winery and Vineyard | Viognier, Monticello AVA | 2018 |
| Glen Manor Vineyards | Hodder Hill | 2015 |
| Greenhill Vineyards | Mythology | 2016 |
| Hamlet Vineyards | Eltham | 2017 |
| Hark Vineyards | Merlot | 2017 |
| Honah Lee Vineyard | Petit Manseng | 2017 |
| Jefferson Vineyards | Meritage | 2017 |
| Jefferson Vineyards | Jefferson's Own Estate Reserve Red Wine | 2017 |
| Keswick Vineyards | Les Vents d'Anges | 2018 |
| Keswick Vineyards | Cabernet Sauvignon Estate Reserve | 2016 |
| King Family Vineyards | Loreley | 2017 |
| King Family Vineyards | Mountain Plains Red | 2017 |
| Lake Anna Winery | Tannat | 2017 |
| Lake Anna Winery | Chardonnay | 2018 |
| Lake Anna Winery | Petit Verdot | 2017 |
| Lost Creek Winery | Cabernet Franc | 2017 |
| Michael Shaps | Meritage | 2016 |
| Michael Shaps | L. Scott | 2017 |
| Michael Shaps | Petit Verdot | 2017 |
| Michael Shaps | Cabernet Franc | 2017 |
| Michael Shaps | Raisin d'Etre Blanc | 2016 |
| Michael Shaps | Meritage | 2017 |
| Michael Shaps | Petit Manseng | 2018 |
| Muse Vineyards | Cabernet Franc | 2015 |
| Narmada Winery | Chardonel Reserve | 2017 |
| Paradise Springs Winery | The Moment | 2016 |
| Pippin Hill Farm & Vineyards | Petit Verdot | 2017 |
| Pippin Hill Farm & Vineyards | Wild Common Reserve | 2017 |
| Pippin Hill Farm & Vineyards | Easton Blue | 2016 |
| Pollak Vineyards | Cabernet Franc Reserve | 2017 |
| Pollak Vineyards | Smuggler | 2017 |
| Pollak Vineyards | Cabernet Franc | 2017 |
| Pollak Vineyards | Cabernet Sauvignon | 2017 |
| Pollak Vineyards | Meritage | 2017 |
| Potomac Point Winery | Petit Verdot | 2017 |
| Rockbridge Vineyard | V d'Or | 2017 |
| Rosemont Vineyards | Cabernet Franc | 2017 |
| Shenandoah Vineyards | Shenandoah Reserve Red | 2017 |
| Sunset Hills Vineyard | Mosaic | 2017 |
| The Barns at Hamilton Station Vineyards | Meritage | 2017 |
| Trump Winery | Blanc de Blanc | 2014 |
| Trump Winery | Cabernet Sauvignon | 2017 |
| Winery 32 | Thoroughbred Blend | 2016 |
| Zephaniah Farm Vineyard | Friendship | 2017 |